Seam Sealing Tape for Outdoor Footwear
Waterproof Shoes and Walking Boots rely on seam sealing technology as a key part of their system to provide waterproofing around the vulnerable spots of the shoe seams that would otherwise allow water in.
Whether it is for hill walking boots, snowboarding shoes, waterproof hiking boots or one of many other activities that require waterproofing, waterproof breathable shoes are the result of innovative thinking and quality manufacturing solutions.
How does waterproof footwear work?
A waterproof shoe (for example) is made up of two layers. The outer layer and the membrane. The outer layer is the one that you can see externally. It is designed to protect your feet from the outdoors environment, puddles, rocks, scuffing, etc. The surface of the external layer will generally have some form of water repellent treatment or coating to help with waterproofing though on some shoes, this treatment is only temporary.
The waterproof shoe is then sealed with a membrane which acts as an inner shoe inside the main exterior shoe shape/design. The membrane of this internal layer is the important factor in keeping your feet dry in wet conditions. Generally this membrane will offer both waterproofing and breathable characteristics. The membrane has tiny pores that are too small for water to seep through yet allow your feet to breath through the membrane itself. The seams of this membrane are what is seam sealed to ensure complete protection from water that may break through the outer layer of the waterproof footwear.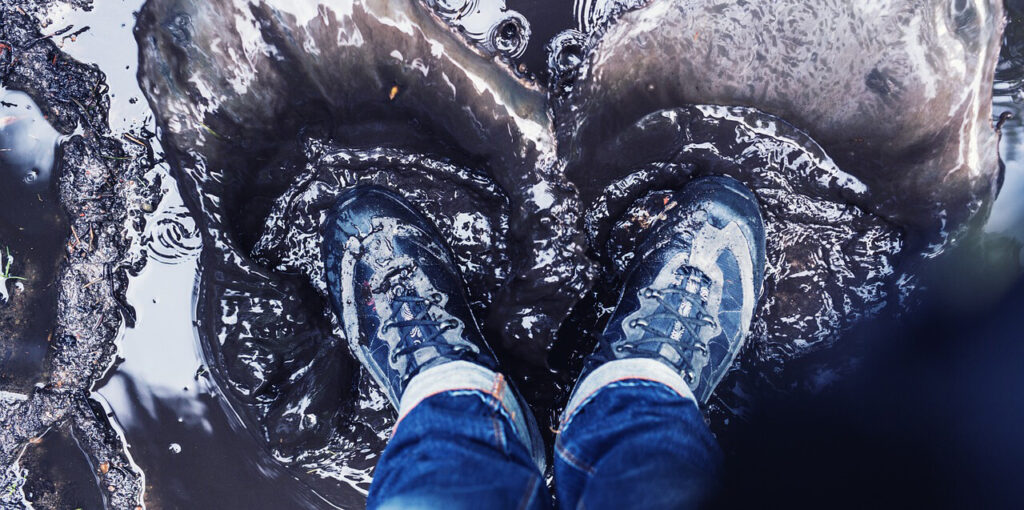 Waterproofing boots are for more than just the rain
While the general use of waterproof boots is for walking in the rain, boots can come into contact with meltwater, snow, steam, chemical agents, oils, soaps and other liquids.
Why are Seam Sealing Tapes so important?
Stitch holes that are created when seams are sewn into fabric creates an entry point that water transmission can occur. While these stitch holes may be small, the sheer number of these holes provides a large enough area for water to penetrate and without seam sealing tape, the seam looses the water protection capabilities that the main fabric may posses.
But it isn't just water proofing that seam seaing is beneficial for. It also strengthens seams, can prevent dust and viruses from passing and can even add a designer element into the mix. Whatever your needs may be, our range of seam sealing tapes are designed to perform and are the perfect solution for your outdoor footwear needs.
Quality Seam Sealing Tapes for a Quality Product
When you are manufacturing footwear for outdoor hillwalking, contract workers or safety equipment, quality is key. The quality of the outer layer material, the quality of the membrane and the quality of the seam sealing tape. And at Ardmel, we deliver on this again and again. We are one of the global leaders in seam sealing tape manufacturing. Founded in 1973, our five decades of class leading experience has seen us at the forefront of new technological advances and innovation in everything from ultrasonic manufacturing to the constant development and refinement of our seam sealing machines.
Supplying a range of high quality seam sealing tapes to our international customers, our name is synonymous with quality. Our wide range of seam sealing tapes and adhesives that can be found in everything from the production of technical outerwear (ie. waterproof jackets, mountaineering tents, sportwear) to vital PPE, sound insulation and even hot air balloons.
Our unique concept to supply not only our vast range of seam tapes and adhesives but also the machinery and best application techniques has helped define us as a complete 'one stop shop' for our customers and their production process needs.
From the initial stages of your product design through to final manufacture, we provide support at every step.
If you would like to know more about what we can do for your business, please contact us today.