Why material testing is important
Material testing, whether it is for outdoor clothing, sports equipment, safety PPE garments or similar, is carried out to ensure that products are fit for purpose, safe and provide the stated performance that their brands claim.
Material testing can provide manufacturers with a wealth of information about fabrics, garment prototypes and other product samples which can be vital in the design of garments and what materials are used and even to what variety of seam sealing tape is used on seams.
Material testing data can be used for engineers, product designers and marketing teams keen to find unique selling points that mark their product out over their competitors.

Some of the reasons for material testing
Meeting Safety Regulations
Finding the right material for the best performance levels
Verifying a products marketing claims
Verifying a product is fit for purpose
What products require material testing for regulatory compliance?
When a safety product fails, it can lead to risk of human life. Car seat belts, fire fighter protective clothing, Doctors PPE gowns and waterproof outdoor clothing designed for extreme mountaineering. When a user puts their lives in the hands of their equipment, it is of upmost importance that the equipment works to the standards that the industry demands and the brand markets.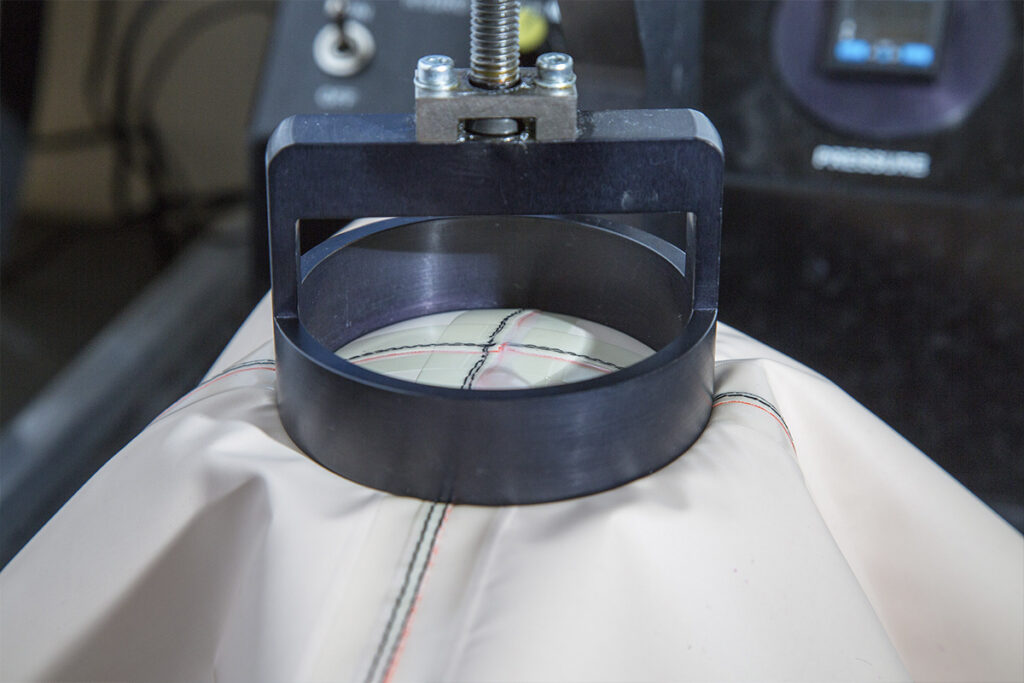 While different countries have different regulations, there are also global standards, sporting regulations and an abundance of other safety hurdles that certain clothing materials have to meet.
For example, in Motorsport, driver race suits must be made to a set fireproofing standard for International racing series.
Companies and brands must adhere to set standards for various industries to prove their compliance and this is done through material testing.
Finding the right material for the job
Material testing goes beyond determining a garments waterproofing ability. It also allows designers to select the right material for extended wear and tear. In the car industry, car seats have the endure hours per day of abrasive denim jean friction. Material testing helps to develop durable fabric materials that can be used on car seats that work with the life expectancy of the car in question.
With an abundance of materials, treatments and seam sealing tapes to choose from in garment manufacturing, material testing can help to narrow down the wide choice of materials to find the right solution that is the perfect fit.
Material testing is more than just for regulations and durability
Material testing is frequently done early on in the design process to help evaluate what will be the best solution for the finished product. The material choice of a Snowboarding jacket can determine the final pattern cut of the garment and even what and where seam sealing tape is required. If a certain material HAS to be used, this may limit what colour choices and textures a garment is available in and this can have a knock on effect on the rest of the garment design.
Learning from past mistakes
Material testing is not just used to determine the products of the future. It is also used to learn from the past. Failure analysis can help manufacturers to identify problems with previous designs, vulnerable material choices and other issues that may have been missed in an original garment design.
This can highlight defects in the production process, a bad material batch and other reasons that can be learnt from in future production and material development.
Find out more
At Ardmel, we have developed a wide range of testing machinery designed to help manufacturers develop products to the highest of standard. From hydrostatic testers to tensometers and a wide range of bespoke testing machines designed by our Ardmel CREATE team that are specially engineered to meet the requirements of our customers.
If you would like to know more about our testing equipment and what we can do for your business, please contact out global head office by filling in the form below.