SMS-600 Ultrasew Machine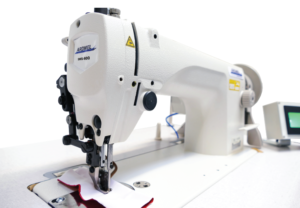 The SMS-600 Ultrasonic Sewing Machine is unique to any other ultrasonic technology.
Using ulstrasonic sound waves, the Ultrasew Sewing Machine bondes textiles together without thread. The SMS-600 Ultrasew Machine truly is a modern marvel of technology and is an award winning design that, due to its unique performance has been awarded a "The Queens Award in Innovation".
Like a traditional commercial sewing machine, the SMS-600 Ultrasew has all the handling capabilities of a "normal" sewing machine, with the exception that there is no thread or needle. And because the machine operates like a "normal" sewing machine it requires very little operator training beyond what is required for a traditional sewing machine training in a factory setting.
The unique design means that garment seams and curves are easily created, giving more versatility than the average wheel machine. The walking foot and positioning pin hold material in place, while the special attachments are specifically designed to enable the operator to use this machine on all types of materials including cotton blends and stretch materials, providing smooth uninterrupted seams. The seam can be strengthened by applying tape to the outside or underside.
Energy Efficient
The SMS-600 Ultrasonic Sewing Machine features technology to help with energy efficiency, with an automatic energy saving system that saves power and compressed air by turning off the air supply when not in use.
---
APPLICATIONS
| | |
| --- | --- |
| | - Sportswear |
| | - Underwear |
| | - Medical Gowns |
| | - Outerwear |
| | - Rucksacks and bags |
| | - Body Armour |
| | - & More! |
---
QUALITY & ACCURACY
Using a quiet but powerful 35KHZ Swiss made generator, the SMS-600 is fully certified and CE marked against hearing damage from ultrasonic generator noise, and there is a microprocessor control with a touchscreen HMI operator interface.
The design and function of the machine provides excellent control in the construction of curved seams and is operated just like a standard sewing machine. It is capable of handling all types of materials with synthetic content, stretch materials, laminated and coated materials, fleece and soft shell fabrics, non wovens, cotton blends etc.
---
ADVANTAGES OVER CONVENTIONAL STITCHES
- Provides a totally watertight seam
- Seams are less bulky with no edge fraying
- Uses small seam allowances to create flatter seams
- Improves comfort on next to skin garments
- Cleaner cosmetic appearance
---
SPECIFICATION
Machine Details

Power Requirements
- 230 V AC 50 Hz single phase
Pneumatic
- 6 bar at 60 litres/minute
Dimensions
- 1200mm x 540mm x 1100mm
Weight
- 130kg (net)
Packed Dimensions
- 1310mm x 680mm x 1290mm
Packed Weight
- 225kg (gross)
---

Find out more about our Ultrasonic Machine Range