Please Note: We're closed for our annual summer shutdown from 26th July to 1st August.
Engineering & Manufacturing Specialists since 1973
/
LS450 Laser Cutting Machine
LS450 Laser Cutting Machine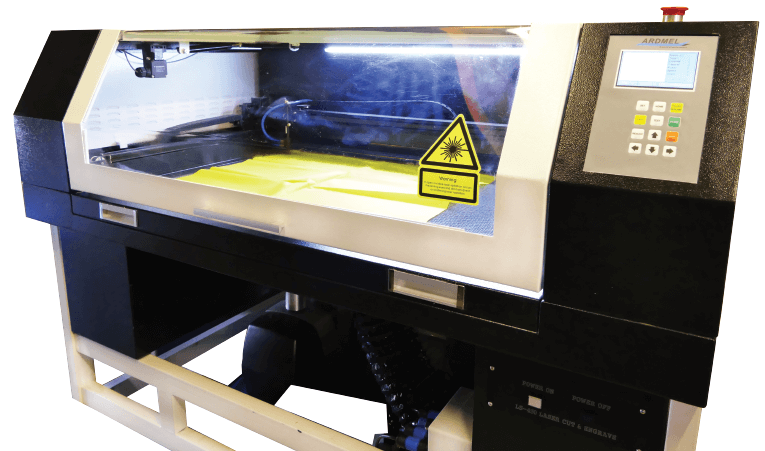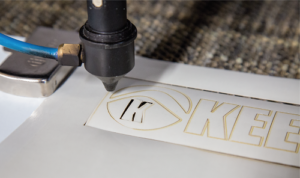 The LS450 laser and engraving machine provides high performance and flexibility on a variety of materials.
The cutting speed of 150 mm/sec combined with our software provide a quality solution for production needs at an affordable price. Our machines are used across all market sectors from industry to hobby crafts.
We can also provide cutting solutions tailored to your requirements. Ardmel offer an in-house laser cutting and engraving service for our customers from small to larger quantities.
---
APPLICATIONS
Cutting and Engraving of;

- Textiles
- Leather
- Plastics
- Wood
- Paper
- Sign-making materials e.g. retro-reflective films and self-adhesive films, stencils, card, acrylic, etc
---
QUALITY & ACCURACY
- CO2 gas layer tube 60W output power
- The water cooling system cools the laser tube to increase the lifespan and prevent damage
- USB data transfer to the machine
- Cutting speeds up to 150mm/sec and engraving speeds of 1500mm/sec, to an accuracy of 0.05mm
- Under bed suction blower to remove smoke and keep the material firmly fixed to the working table
- Safety hatch interlock to disable the machine when hatch is open
- Separate X & Y directional control cards allowing independent X & Y moving of the head
- Inbuilt air compressor enabling rapid cooling of cut material without the need for external compressed air
- DSP control system for smooth head movement
- Single head cutting
---
SOFTWARE
- Ability to read and edit different file formats such as AI, BMP, DXF, PLT and DST, giving the freedom to work with different software such as Adobe Illustrator, Adobe Photoshop, Auto CAD, Scoreling, etc
- Cutting route optimisation enabling minimum changeover time between cuts
- Origin output, instant output and defined origin output features suiting different applications
- Layer processing order gives the ability to change the cutting sequence on an operation
- Includes array, rotate, mirror, offset, object dimensions and invert features
- Ability to simulate the cut or engraving on the software without doing the actual operation
- Freedom to use multiple layers, enabling different power settings for different areas of the same work piece
- Easy manipulation of machine maximum output power, speed, cutting origin and machine operation mode (cutting or engraving)
---
SPECIFICATION
Machine Details

Power Requirements
- 230 V AC 50 Hz single phase
Laser Type
- Hermetic and detached CO2 laser tube
Wavelength
- 10.62um meeting GB11748-89 standard
Laser Current
- 0-22mA
Maximum Output Power
- 65W
Cooling Water Temperature
- 40-50°C
Maximum Cutting Speed
- 150mm/s
Maximum Engraving Speed
- 1500m/s
Working Dimensions
- 980mm x 540mm
Dimensions
- 1640mm x 1240mm x 1250mm
---

Find out more about our Laser Cutting & Engraving Machine