Please Note: We're closed for our annual summer shutdown from 26th July to 1st August.
Engineering & Manufacturing Specialists since 1973
/
SC-200 HMI Strip Cutting Machine
SC-200 HMI Strip Cutting Machine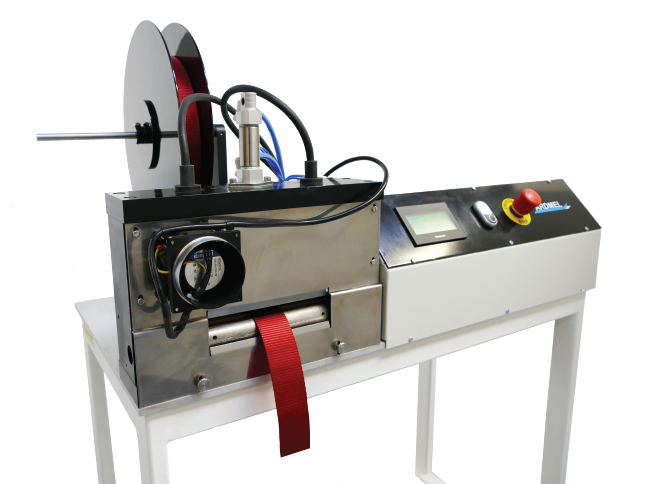 A free-standing, robust, heavy-duty unit.
The Strip Cutter system is capable of handling the toughest strip cutting tasks.
It is perfect for cutting a variety of products including webbing, elastics, cords, cuffing and more with ease.
The Drive and Control module accepts 3 cutting modules: Cold Guillotine, Straight Hot Knife and Angle Hot Knife.
All three are pneumatically driven, meaning these can have years of service with minimum maintenance and are easy to change.
---
APPLICATIONS
| | |
| --- | --- |
| | - Seatbelts |
| | - Webbing |
| | - Zippers |
| | - Hook & loop |
| | - Cords and ropes |
| | - Ribbons and labels |
| | - Coated fabrics |
| | - Rubbers |
| | - Felts |
| | - Tapes |
| | - Tubing |
---
QUALITY & ACCURACY
- The 6" (152mm) feed block is capable of multi-feed, whilst the top and bottom drive rollers are driven and are spring clamped to avoid slippage
- The motor has a 'soft start' to prevent the fabric being pulled too hard at the beginning of the process, reducing the risk of slippage or over-stretching
- Exceptional cutting accuracy within ±1mm over a maximum length of 100mtrs. The feed speed averages at 36mtrs/min with an inch speed for loading of 5mtrs/minute
- The machine is capable of cutting multiple rolls at one time up to 6" (152mm) wide. There is an option to go wider with our 9" (228mm) cutting blade if required.
- Input of data (e.g. length, temperature, etc) is entered through the touchscreen HMI panel which is designed for easy programming
- Sample webbing can be sent and we will cit and return the sample to ensure the quality is as expected prior to purchase
- Once the length and quantity are set, along with temperature and dwell time if a Hot Knife is fitted, the machine can be left virtually unmanned and will automatically stop once the quantity is reached. There is little to no wastage.
---
OPTIONAL EXTRAS
| | | |
| --- | --- | --- |
| | Heavy Duty Hot Knife | |
| | Heavy Duty Cold Guillotine Knife | |
| | Angle Hot Knife | |
| | Pneumatic Marker System | - Marks webbing where the operator is required to sew |
| | Slack Feed Unit | - Feeds webbing into strip cutter, stopping webbing from slipping |
| | Mechanical End Detector | - Detects the end of the webbing |
---
SPECIFICATION
Machine Details

Power Requirements
- 230 V AC 50 Hz single phase 10 Amps
Pneumatic
- 7 bar at 6 litres/minute
Feed Block Width (Standard)
- 6 inch (150mm)
Feed Block Width (Optional)
- 9 inch (228mm)
Maximum Feed Length
- 99,999mm in 1mm increments
Maximum Feed Speed
- 36 metres per minute
Dimensions
- 930mm x 500mm x 1200mm
---

Find out more about our Bonding Press Machine Range