Using a Hydrostatic Head Tester for Seam Sealing Tape
Before clothing garments, outdoor camping equipment and sportswear goods that use seam sealing tape for waterproofing and strengthening enter the market, they must go through a comprehensive testing process to ensure that they are in fact, fit for purpose.
Fabric & Seam Sealing Testing
Fabrics go through various testing processes to ensure that they are in fact fit for purpose. Testing can cover any and all of the following (depending on its end use requirements):
Burst Strength Testing
Colour Transfer Testing
Ageing Testing
Pilling & Snagging Testing
Laundry Testing
Waterproof Testing
Perspiration Testing
Tear Strength TestingGSM Testing
Crease Resistance Testing
Shrinkage Testing
Snag Testing
Extreme Temperature Testing
When it comes to waterproof testing, there is tests for both the fabric waterproofing which needs to be tested and verified AND the seam waterproofing. Seam Sealing Tape is the perfect solution for waterproofing the vulnerable seam areas that can allow water to penetrate. But this seam sealing must still be tested to guarantee that the seam sealing tape is indeed carrying out its primary purpose and will make a Outdoor Jacket for example, fully waterproof.
To carry our this type of testing, manufacturers can use Hydrostatic Head Testing Equipment.
What is a Hydrostatic Head Tester?
A Hydrostatic Head Tester is a measuring device used to measure the water penetration resistance of fabrics and seams. It provides quick and accurate results.
It works with a main clamp which holds down a fabric and/or seam seal area which is then exposed to pressure in a controlled, slow motion. This is done to avoid any extreme exertion on the material that could cause false results.
The testing process measures the fabric and/or seam tolerance in kPa or PSI while being visually observed for signs of water penetration. Hydrostatic Head Testers are a vital cog in the testing wheel for outdoor clothing, sportswear and so much more.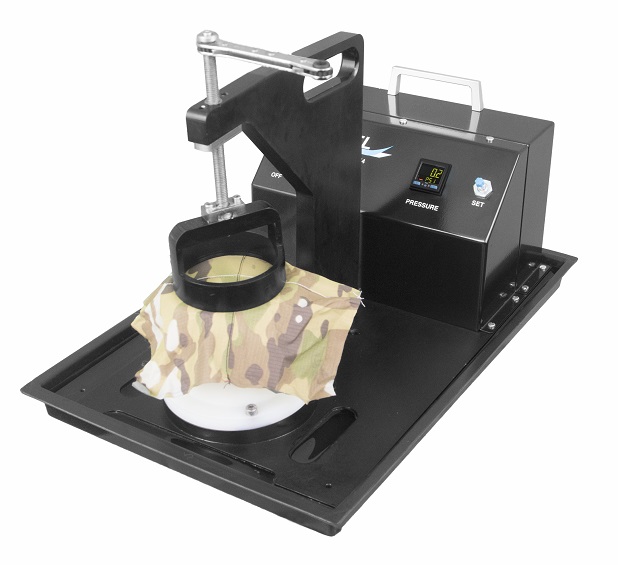 ---
Ardmel Testing Equipment
At Ardmel, we manufacture a range of testing equipment for clothing brands and production factories across the globe. We offer two variations of hydrostatic head tester as well as tensometer equipment.
Find out more
With Sales and Servicing Office across the globe, we truly are a worldwide force in the engineering and manufacturing sector. Our range of manufacturing machines from seam sealing machines to the very seam sealing tapes are all world renowned and our testing equipment including hydrostatic head tester are able to allow manufacturers to test their product before releasing them to customers, knowing that they are in fact fit for purpose.
If you would like to know more about our range of testing equipment or seam sealing tapes, please contact your closest Sales and Servicing Office or contact our Global head office using the links below or fill in the contact form and your enquiry will be passed on to the relevant department.